Welcome to our community and the website for the Kiwanis Club of North Lake Tahoe!

Kiwanis is a global organization of volunteers dedicated to changing the world one child and one community at a time.
Our club has one of the youngest memberships and is one of the most active Kiwanis clubs in the nation. We serve the North Lake Tahoe area including communities of Truckee, Tahoe City, Kings Beach, Incline Village and the areas between. Lake Tahoe is located on the California-Nevada border within the Sierra Nevada Mountain Range. These communities are interspersed with small enclaves of residential housing that are 80% second homes.
Tourism is the major component of the local economy. Outdoor recreation opportunities abound, including ski areas, hiking trails, bike ways, beaches and Lake Tahoe. The area is populated with 10,000 year-round residents. However, the peak population can reach 50,000 during popular vacation periods.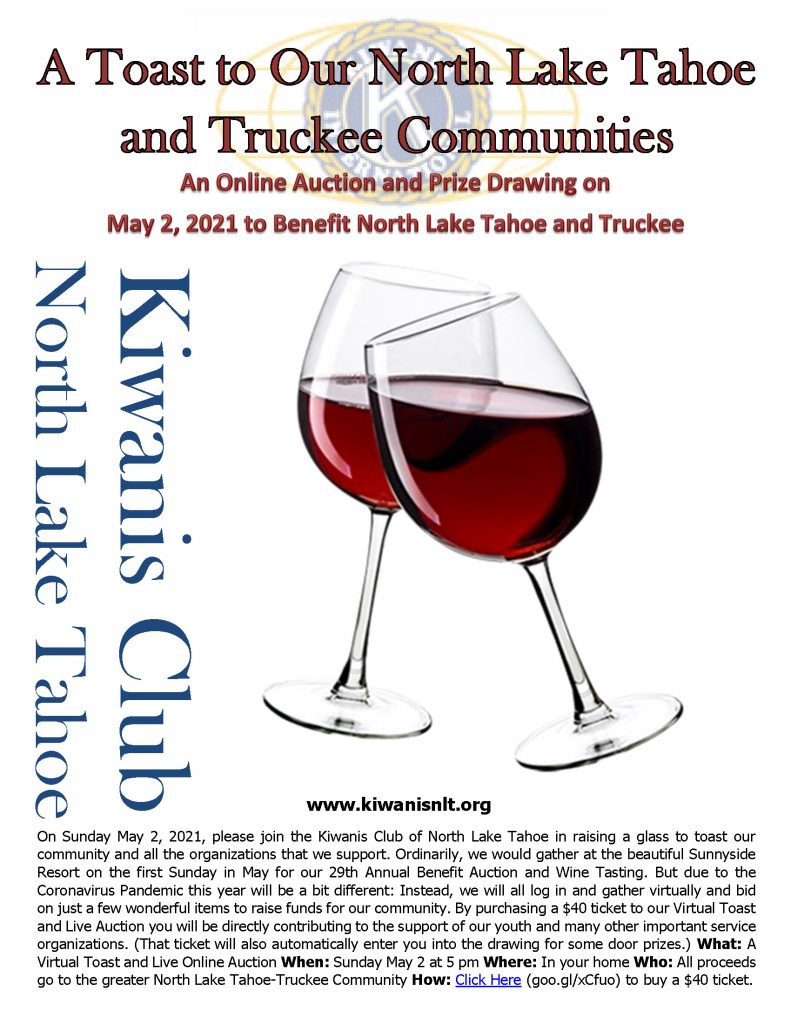 A Toast to our North Lake Tahoe and Truckee Communities
On Sunday May 2, 2021, please join the Kiwanis Club of North Lake Tahoe in raising a glass to toast our community and all the organizations that we support.
Our primary fund raising event is the Kiwanis Annual Benefit Auction & Wine Tasting.  The annual event is held the first Sunday in May and typically raises $40,000 – $60,000 for the communities of North Lake Tahoe including Tahoe City, Truckee and Kings Beach. This year, we're taking the event virtual with a Toast to Our Community and on-line auction on May 2nd, 2021.  We are looking forward to next year, when we can resume our in-person event at Sunnyside Restaurant & Lodge!
But due to the Coronavirus Pandemic this year will be a bit different: Instead, we'll all log in and gather virtually and bid on just a few wonderful items to raise funds for our community. By purchasing a $40 ticket to our Virtual Toast and Virtual Silent Auction you will be directly contributing to the support of our youth and many other important service organizations. (That ticket will also automatically enter you into the drawing for some door prizes.)
In a normal year, the Kiwanis Club of North Lake Tahoe raises over $50,000 at our annual Benefit Auction, and all the proceeds of that event are distributed to more than 139 youth and service organizations for the benefit of our community. Our goal this year is to raise $20,000 for those organizations.
So please, in the spirit of supporting our community and our kids, as so many of you generously do every year, buy a couple of tickets and join us in bidding and raising a glass to toast the greater North Lake Tahoe/Truckee community!
Sincerely,
The Kiwanis Club of North Lake Tahoe
What: A Virtual Toast and Silent Online Auction
When: The Auction start date is Sunday, April 25 and the Auction ends Sunday, May 2  at 5 PM .
Where: In your home
Who: All proceeds go to the greater North Lake Tahoe Community
How: Click here (Silent Auction Pro – Purchase Tickets) to buy a $40 ticket